010122
The start of a New Year means typically a refresh of dietary choices, but this savory recipe popped up in my feed about a week ago and I've been hankering for taco pie since. And let's be real, most fridges don't get cleaned out of treats and clean meals begin till the Monday following NYE, so I've got that beat by another solid day.
Many cultures have their version of a meat pie, but pretty sure anything Mexican and/or referring to a taco usually has a tortilla nearby, in either corn or flour, flat, folded, or rolled format. Pillsbury pie crusts jump in to fill the gap where tortillas are absent, and provide a flakey, savory wrap of taco comfort in casserole form.
Recipe provided by Nicole McGloughlin / myrecipes .com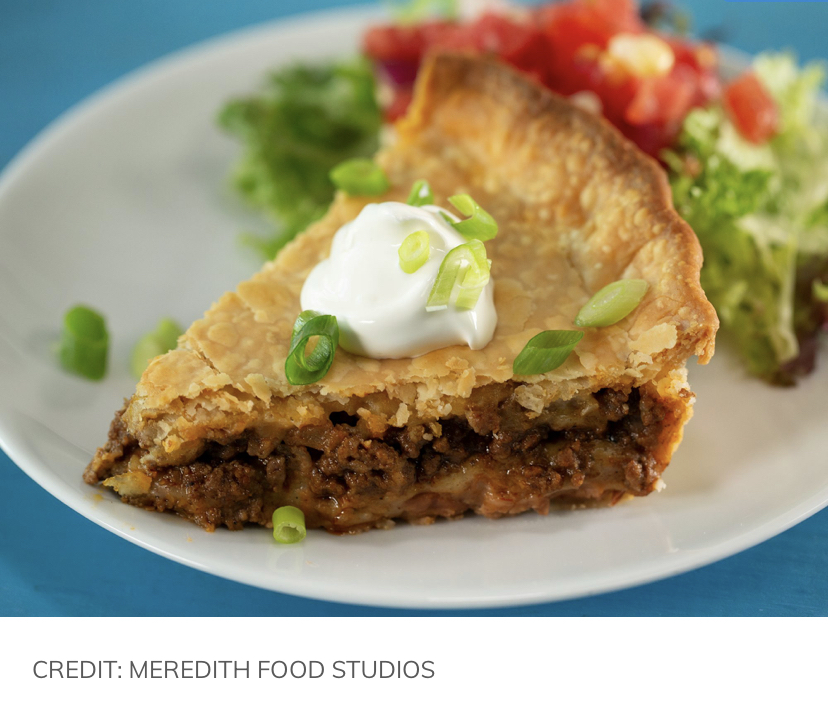 Feedback: Repeat
Easy, sub 15 minute prep, +30 min bake time with ingredients I usually have on hand. This is lower serving maintenance than dishing up and serving tacos, which really, we already do all the time, and might actually let everyone eat hot food simultaneously for once (I'm looking at you, Moms). A nice take on a meat pie, with lots of leftovers. I have a family of 4 (2 adults, 2 kids) and we ate about half the pie.
Family Feedback: Winner
Learning moment: I'm going to revisit the temp suggested on my chicken pot pie recipe, as I think I might need to bump up the temp. This one bakes at 425 for 30 min, and suggests adding foil at 20 to prevent over browning, which I did, and the crust was perfect.
Ingredient List
2 teaspoons olive oil 
1 pound ground sirloin / ground beef
¾ cup diced onion (red or yellow)
1 (1-oz.) packet taco seasoning 
¼ cup salsa 
1 (14.1-oz) pkg. of 2 refrigerated pie crusts, divided 
1 (16-oz.) can refried beans 
8 ounces Cheddar cheese, shredded (about 2 cups), divided 
1 (4-oz.) can diced green chiles 
Toppings: sour cream, salsa, avocado, jalapeños
Directions
Preheat oven to 425°F.
Heat oil in a large skillet over medium-high. Add beef and onion; cook, stirring to crumble, until onions are softened and meat is browned, about 5 minutes. Stir in taco seasoning and salsa until combined. Cook 2 minutes, and remove from heat.  
Prepare 1 pie crust in bottom of a pie plate.
Spread refried beans evenly over crust; sprinkle with 1/2 cup of the cheddar.
Top with beef mixture, and then spoon green chiles evenly over beef mixture; sprinkle with remaining cheese.
Top with remaining pie crust; lightly press edges of crust together to seal.  
Bake in preheated oven 30 minutes, tenting edges with foil during the last 10 minutes if crust becomes too brown. Let stand 10 minutes before serving. Serve with desired toppings.